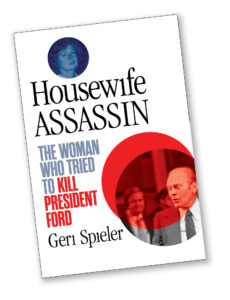 What if
a forty-five-year-old country club mom, who was a suburban doctor's wife, took deadly aim at the President of the United States and came within six inches of killing him?
What if
this would-be assassin was a double agent a paid FBI informant who was also feeding information to the radical underground, where she met her unindicted co-conspirators?
And what if
she had been picked up and released by the Secret Service just fourteen hours before she fired her shot?
Housewife Assassin: The Woman Who Tried to Kill President Ford is the true story of Sara Jane Moore, told in a riveting narrative voice, presenting history you won't find anywhere else.
"Because I am 60 years old, I remember the assassination attempt well, and figured…that I knew enough vital information about the shooting and about Moore herself to move on to other topics. Spieler's book show the error of my thinking."
—Steve Weigand, San Francisco Chronicle, January 30, 2009
From Housewife Assassin: The Woman Who Tried to Kill President Ford
…..
"Late in 1956, Sara Jane made one of her very rare calls to her mother. She was clearly upset. She needed to have some time back home in West Virginia, she explained, and was going to bring the children for an extended visit. She booked a direct flight from Los Angeles to Columbus, Ohio, and as her brother Dana told me, he drove up from Charleston to collect Sara Jane and the kids at the airport.
"The plane landed just before sunset, and Dana stood watching the ground crew roll a staircase up to the door just behind the gleaming wings. The door opened, and the first of a hundred passengers began to deplane. He said he watched them walk off, one after the other, into the waiting arms of friends and relatives.
But where was Sara Jane? Finally, after all of the other passengers had left, little Sydney Jr., four years old, carefully walked down the steps, holding tight to the railing with one hand and grasping the hand of his three-year-old sister, Janet, in the other. Right behind him was a stewardess, holding nine-month-old baby Christopher in her arms. Dana watched, puzzled. Sara Jane was not with them."
It is the obligation of the thoughtful journalist to tell us something meaningful that we don't already know. In Taking Aim at the President, Geri Spieler is more than up to the task. That would-be assassin Sara Jane Moore was mentally disturbed; the product of a domineering mother and a cold and distant father is not surprising nor is it news.  But the byzantine tale of her double, triple and quadruple lives, with so many bizarre groups, including the federal government, exploiting her vulnerabilities and weaknesses, is the eye-opening stuff of Hollywood fiction. The fact that it's all true, and told with precision by Spieler, raises Sara Jane's story to something significantly more than a footnote to history.
—Alan Weisman, Author of "The Extraordinary Life and Times of Dan Rather"
Please address all media requests to my agent, Sharlene Martin:
Martin Literary and Media Management
206-466-1773 Pacific